SysMaster Receives Communications Solutions Magazine's "Product of the Year" Award for 2004
Norfa Broadband Communication Services Platform Honored for Outstanding Innovation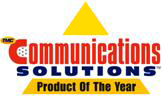 EMERYVILLE, CA, May 3, 2005 - SysMaster Corporation announced today that Technology Marketing Corporation (TMC ® )'s Communications Solutions magazine online ( www.tmcnet.com/comsol ) has named Norfa Broadband Communication Services Platform as a recipient of a 2004 Product of the Year Award.
Norfa is an advanced broadband communication services platform which delivers a comprehensive set of next generation Voice-over-IP and IP-based services, including IP Centrex/ IP PBX, Voicemail, Follow-me, Callback, Conference, Virtual Fax, Web Conference, Desktop Sharing, Virtual Office, Class 4 Service, and SMS Messaging. Norfa provides fully integrated CPE device provisioning, call routing, and subscriber management and billing. The product seamlessly integrates with third party equipment through universal interfaces utilizing SIP, H.323, MGCP, SS7, ISDN/PRI, GR-303, CAS and MFC/R2 protocols.
"It is a great honor for SysMaster to receive this prestigious award from the Communications Solutions magazine," said Michael Fahey, SysMaster Director of Sales. "The 2004 Product of the Year Award underscores our commitment to excellence, technological innovation and leadership in the Voice-over-IP equipment market. It is also a reflection of our commitment to develop innovative VoIP products and solutions that consistently exceed our customers' expectations."
"Each year Communications Solutions magazine bestows its Product of the Year awards on companies that have demonstrated excellence in technological advancement and application refinements. SysMaster has demonstrated to the editors of Communications Solutions that its products or services have gone the extra mile to help improve both the customer experience and the ROI for the companies that use them," said Rich Tehrani, President and Group Publisher of Communications Solutions.
The Product of the Year Award winners for 2004 will be published in the April 2005 issue of Communications Solutions magazine online ( www.tmcnet.com/comsol ).
About SysMaster
SysMaster Corporation is a leading provider of integrated Voice-over-IP solutions for carriers, service providers and enterprises. SysMaster solutions are based on two core platforms - VoiceMaster, the industry's leading real-time billing and call-routing platform, and SysMaster Advanced Gateway, a highly scalable and functional platform for delivering VoIP services across PSTN and IP-based networks. SysMaster solutions based on those platforms enable companies to cost-effectively deploy and manage multiple VoIP services, including Class 4 Service, IP PBX, IP Centrex, Virtual Office, Voicemail, Conference, Follow-me, and Callback. SysMaster Corporation is headquartered in Emeryville, CA . For more information call 1-877-900-3993 in the US, 1-510-420-8837 outside the US , or visit www.sysmaster.com.
About TMC ®
Technology Marketing Corporation (TMC) publishes two print magazines: Customer Interaction Solutions , and Internet Telephony; five d igital publications, SIP Magazine, Speech-World, WiFI Telephony Magazine, VoIP Developer, WiMAX Magazine; and the online publications TMCnet.com, Planet PDA Magazine, WiFi Revolution, Alternative Power and BiometriTech. TMC is also the first publisher to test new products in its own on-site laboratories, TMC Labs. TMC also produces The VoIP Developer Conference, Speech-World Conference, IP Contact Center Summit and The Global Call Center Outsourcing Summit. TMCnet.com publishes more than 25 topical online newsletters. For more information about TMC, visit its Web site at www.tmcnet.com.