SS7 Interconnect Solution
Business Opportunity
The rapid adoption of VoIP technology in the telecom sector has lead to the explosive growth of VoIP networks. With its substantial cost savings relative to traditional technologies for transport of voice, VoIP creates lucrative business opportunities for next generation telecom providers. By offering low-cost, innovative communication services, such providers can build loyal subscriber base and grab market share from traditional telecoms.
VoIP technology, however, creates its unique challenges. Because VoIP providers typically do not own Public Switched Telephone Network (PSTN) infrastructure, they have to rely on traditional carriers to terminate calls to the PSTN network. In USA, Europe and other developed regions, most carriers offer several alternative options to receive VoIP traffic for termination. Such options typically include IP Trunking, Analog Trunking, Digital Trunking and SS7 Interconnect. In emerging markets, however most operators typically offer only the SS7 Interconnect option and VoIP providers who want to offer calls to international locations either have to implement SS7 Interconnect solutions internally or have to outsource call termination to third parties and give up some of their margins.
Business Solution
SysMaster offers integrated, scalable, and cost-effective solutions for interconnecting SS7 and VoIP networks. Our SS7 Interconnect solution features powerful billing capabilities, intuitive CRM web portal, and proven interoperability with both VoIP and SS7 equipment from other leading equipment vendors. Compared to alternative solutions, our SS7 Interconnect solution is more scalable as a single SysMaster SS7 SEP Gateway can control up to 1000 MEP voice channels. Because the cost of MEP voice channels is lower than that of SEP channels, such solution reduces the overall cost per channel and enables customers to start with a smaller equipment investment while preserving the option to scale up cost-effectively. Because all components of the SysMaster's SS7 Interconnect solution are developed in-house, providers also benefit from reduced integration costs and improved return on investment. s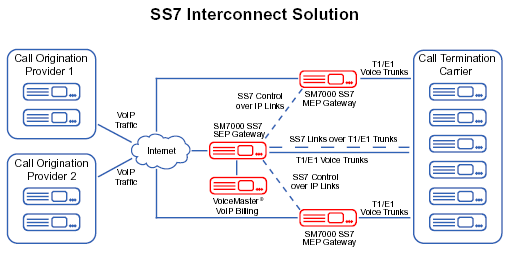 How does the solution work?
Service provider experience
SysMaster SS7 SEP Gateway receives a call termination request from a remote VoIP gateway (operated by a business partner).
The SS7 SEP Gateway sends authorization request to VoiceMaster® VoIP Billing.
VoiceMaster® checks whether the remote gateway is authorized to send traffic, verifies for sufficient account balance (assuming a prepaid scenario) and authorizes the call.
The SS7 SEP Gateway sends both call signaling (SS7) messages and voice traffic via its T1/E1 trunks.
If a voice channel becomes unavailable, the SS7 SEP Gateway utilizes SS7 signaling to transparently transfer the voice traffic to either alternative channel on its T1/E1 trunks or to a MEP channel of the controlled MEP Gateways.
Upon call completion, the SS7 SEP Gateway notifies VoiceMaster® VoIP Billing and VoiceMaster® records complete CDR information for the call and debits the partner account with the accumulated service charges.
Solution components and requirements
Core elements of SysMaster's SS7 Interconnect Solution include:
SS7 SEP Gateway (SM7000 VoIP Gateway with SEP Module), a flexible switching device that seamlessly bridges VoIP and SS7 networks while providing SS7 call control.
VoiceMaster® VoIP Billing, a robust billing server that supports both pre- and post-paid billing and offers rich billing functionality for VoIP services.
SS7 MEP Gateway (SM7000 VoIP Gateway with MEP Module), a cost-effective VoIP/PSTN switching device integrated with the SS7 SEP Gateway (optional element).
Interested to learn more about that solution? Call Us today or email us at service@sysmaster.com.