Norfa System
Overview
Norfa is an IP based Class 5 system designed to deliver comprehensive set of traditional PBX and next-generation communication services over broadband connections. The system offers PBX, Auto Attendant, Voicemail, Unified Messaging, Follow-me, and other services and fully complies with the most recent regulatory E911 requirements. Through bundling and pricing Norfa services creatively, providers can successfully differentiate themselves from the competition and build profitable businesses, competing not purely on price but also on service availability, quality, and reliability.
Norfa System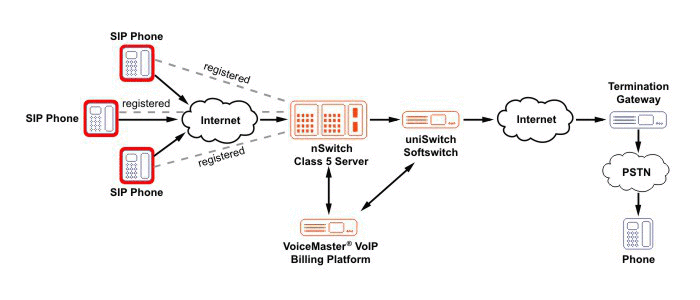 Key Features
Full support for traditional PBX features
Advanced PBX functionality
Voicemail with Unified Messaging
Automated DID number distribution
Advanced auto attendant/IVR
Support for multiple protocols and protocol conversion
Automated provisioning of customer premises equipment
Multiple call routing mechanisms
Support for multiple voice codecs and codec translation
Follow me functionality
E911 support

Full support for traditional PBX features
Norfa system provides full support for traditional PBX features to ensure flexible call handling, processing and routing. The system supports call forward, call transfer, call pickup, call-on-hold, DND, call park, conference calling, speed dial, call return, caller ID, DTMF block, last call redial, call screening, 3-way conference, and many others. All traditional PBX features are available to both IP and PSTN callers.
Advanced PBX functionality
Compared to traditional PBX systems, Norfa offers greater functionality and more features for the end-users. Norfa supports voice-to-email, fax-to-email, distinctive ring, selective call forward, selective call rejection, virtual ring, and other advanced features which are available to both IP and PSTN callers.
Voicemail with Unified Messaging
Norfa system offers complete voicemail functionality that can be accessed via phone or web. In addition, the system offers unified messaging features, enabling users to receive voicemail via alternative communications methods. Upon receiving a voicemail, Norfa system can send email notification to users or can send them an email with voicemail attachment.
Automated DID number distribution
Norfa system features automated DID distribution which enables providers to automatically assign incoming (DID) numbers to the CPE devices of their subscribers. With assigned DID numbers, incoming calls are directly routed to the subscriber's extension without the intervention of the auto attendant.
Advanced auto attendant/IVR
Norfa system features advanced auto attendant which allows flexible system responses to user selections. The auto attendant is fully programmable and supports a large variety of responses including playing voice prompts or executing IVR scripts. All voice prompts are fully customizable.
Support for multiple protocols and protocol conversion
Norfa system supports all major VoIP protocols including H.323, SIP and MGCP to ensure seamless connectivity with virtually any VoIP network worldwide. If necessary, the system is also capable of converting protocols (e.g. SIP to H.323) which enables its deployment in protocol diverse infrastructure.
Automated provisioning of customer premises equipment
With Norfa's automated customer premises equipment (CPE) provisioning feature, service providers can offer a true plug-and-play experience to their subscribers. Such feature enables providers to automatically configure the CPE devices of their subscribers via HTTP or TFTP requests to the Norfa system. Information exchange between Norfa and CPE devices during provisioning is encrypted and secure.
Multiple call routing mechanisms
To help providers reduce costs and improve quality of calls, Norfa system supports a growing number of routing mechanisms. The system currently offers least cost routing, average success rate routing, preferred endpoint routing, two-stage routing, internal routing, and route fail over.
Support for multiple voice codecs and codec translation
Norfa system supports all popular voice compression formats (codecs), including G711, G723.1, G726, G729A/B/AB, and GSM. If necessary, the system can translate voice calls from one codec to another (e.g. G711 to G726) to ensure smooth integration and interoperation with VoIP providers worldwide.
Follow me functionality
Norfa system offers follow-me functionality, enabling users to be reached globally via a single number. Whenever a call is placed to a system end-user, Norfa attempts to connect the call to a list of follow-me phone numbers specified by the user until the call is either picked up or transferred to voicemail (depending on settings). The follow-me list can contain local, long-distance, mobile and/or international numbers so that users can be reached globally.
E911 support
Norfa system fully complies with the latest regulatory requirements for E911 support. The system can route E911 calls to designated emergency centers based on user's origination IP, caller ID, or zip code.