CellNode M4 8-port 10/100 Switch
Product Overview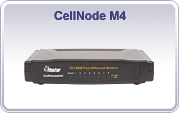 CellNode M4 is an 8-port 10/100 switch that enables users to expand or upgrade their networks in a simple manner. All eight ports of CellNode M4 support auto-negotiation of transfer rates which offers a practical way of integrating 10Mbps and 100Mbps devices. In addition, each port offers auto MDI/MDI-X cable detection capabilities which eliminates the need for crossover cables and allows each port to operate as a general or as an uplink one.
CellNode M4 features wirespeed switching that forwards packets as fast as your network can deliver them. Each port supports half or full-duplex modes for data transfer of up to 200Mbps. Offering great performance and features, CellNode M4 is an excellent choice for expanding or upgrading any network.
Key Features
Eight auto-negotiation ports allow easy integration between 10Mbps and 100Mbps hardware
Auto MDI/MDI-X support eliminates the need for crossover cables
Half and Full-Duplex modes support at each port for data speed of up to 200Mbps
Wirespeed switching ensures minimum network congestion

Eight Auto-Negotiation Ports Allow Easy Integration Between 10Mbps and 100Mbps Hardware
All CellNode M4 ports support auto-negotiation which enables them to automatically detect the transmission capabilities of the devices on the other end of the wire and self-configure for highest performance. Users benefit from ease of integration between hardware supporting 10Mbps and 100Mbps transmission speeds.
Auto MDI/MDI-X Support Eliminates the Need for Crossover Cables
Each CellNode M4 port has built-in auto MDI/MDI-X cable detection capabilities which enables it to automatically switch its Receive and Transmit connections in order to establish proper connection with plugged in devices.
Half and Full-Duplex Modes Support at Each Port for Data Speed of up to 200Mbps
Each CellNode M4 port supports half and full-duplex modes of operation. In full-duplex mode, each port can exchange data with speed of up to 200Mbps which provides ample bandwidth to support multimedia and video applications.
Wirespeed Switching Ensures Minimum Network Congestion
CellNode M4 offers wirespeed switching which enables it to forward packets as fast as the network can deliver them to the device. That results in greater overall network throughput and less congestion.