CellNode M2 Wireless PCI Adapter
Product Overview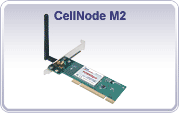 CellNode M2 is a wireless PCI adapter that installs in desktop PCs and lets users connect to wireless networks. The PCI adapter utilizes 802.11b/g standards and supports Super-G and Extended Range technologies to allow enhanced transmission range and higher transfer rates. CellNode M2 is capable of transmitting speeds of up to 108Mbps at transmission distance 2 to 3 times bigger than that of standard 802.11g products. To protect user data and privacy, CellNode M2 supports advanced encryption technologies, such as WEP, WPA, WPA, IEEE 802.1X, TKIP, and AES. With faster connections, better coverage and stronger network protection, CellNode M2 is an excellent choice for adding enhanced and secure wireless connectivity to any desktop PC.

Key Features
Super G technology for faster connections
Extended Range technology for better coverage
WEP/WPA/WPA2 support for stronger network security
Wireless Roaming support for greater user mobility
Infrastructure and Ad-Hoc Modes support for flexible implementations

Super G Technology for Faster Connections
Utilizing Super-G technology, CellNode M2 delivers transfer rate of up to 108 Mbps, which is 2 times faster than the rate of standard 802.11g devices. Faster connections provide users with more time to enjoy watching movies or listening to music than spending time downloading online content.
Extended Range Technology for Better Coverage
CellNode M2 also utilizes Extended Range technology to ensure wider area coverage. Compared with standard 802.11g devices, CellNode M2 offers 2 to 3 times more coverage. That allows users to connect to the wireless network from farther distances.
WEP/WPA/WPA2 Support for Stronger Network Security
CellNode M2 supports advanced encryption technologies, including WEP, WPA, WPA2 and others, to deliver stronger network security. By encrypting communications to and from users, CellNode M2 safeguards users' data and privacy in wireless network environment.
Wireless Roaming Support for Greater User Mobility
CellNode M2 supports wireless roaming to provide users with greater mobility. With roaming, users gain the flexibility to move within the boundaries of wireless networks without experiencing interruption of network access.
Infrastructure and Ad-Hoc Modes Support for Flexible Implementations
CellNode M2 supports multiple modes of operation to allow more flexible implementations. In Infrastructure Mode, the device communicates with wireless access points in order to gain network access. In Ad-Hoc Mode, CellNode M2 communicates directly with other wireless clients in a peer-to-peer manner.